RECENT PUBLICATIONS FROM OUR DEPARTMENT
Kassardjian A, Sun ER, et al. 2023. Modular adjuvant-free pan-HLA-DR-immunotargeting subunit vaccine against SARS-CoV-2 elicits broad sarbecovirus-neutralizing antibody responses. Cell Reports. 42
Golzari-Sorkheh M, Zuniga-Pflucker JC. 2023. Development and function of FOXP3(+) regulators of immune responses. Clinical and Experimental Immunology. 
Oludada OE, Costa G, et al. 2023. Molecular and functional properties of human Plasmodium falciparum CSP C-terminus antibodies. EMBO Molecular Medicine. 
Benn CS, Amenyogbe N, et al. 2023. Implications of Non-Specific Effects for Testing, Approving, and Regulating Vaccines. Drug Safety. 
Berger A, Colpitts SJ, et al. 2023. Engineered murine IL-21-secreting leukemia cells induce granzyme B+ T cells and CD4(+)CD44(+)CD62L(-) effector memory cells while suppressing regulatory T cells, leading to long-term survival. Cancer Immunology Immunotherapy. 
Alphonse MP, Duong TT, et al. 2023. Mercury increases IL-1 beta and IL-18 secretion and intensifies coronary arteritis in an animal model of Kawasaki disease. Frontiers In Immunology. 14
Tavasolian F, Inman RD. 2023. Biology and therapeutic potential of mesenchymal stem cell extracellular vesicles in axial spondyloarthritis. Communications Biology. 6
Foerster EG, Tsang DKL, et al. 2023. ATG16L1 protects from interferon-gamma-induced cell death in the small intestinal crypt. Mucosal Immunology. 16:135-152
Spaner DE, Luo TY, et al. 2023. Paradoxical activation of chronic lymphocytic leukemia cells by ruxolitinib in vitro and in vivo. Frontiers In Oncology. 13
Wang ZJ, Ahmed S, et al. 2023. Isolation of tumour-reactive lymphocytes from peripheral blood via microfluidic immunomagnetic cell sorting. Nature Biomedical Engineering. 
Currie GR, Gerber B, et al. 2023. Developing a Framework of Cost Elements of Socioeconomic Burden of Rare Disease: A Scoping Review. Pharmacoeconomics. 
Sadozai H, Rojas-Luengas V, et al. 2023. Congenic hematopoietic stem cell transplantation promotes survival of heart allografts in murine models of acute and chronic rejection. Clinical And Experimental Immunology. 
Zinter MS, Markovic D, et al. 2023. Tight Glycemic Control, Inflammation, and the ICU: Evidence for Heterogeneous Treatment Effects in Two Randomized Controlled Trials. American Journal Of Respiratory And Critical Care Medicine. 207:945-949
Last Updated May 26, 2023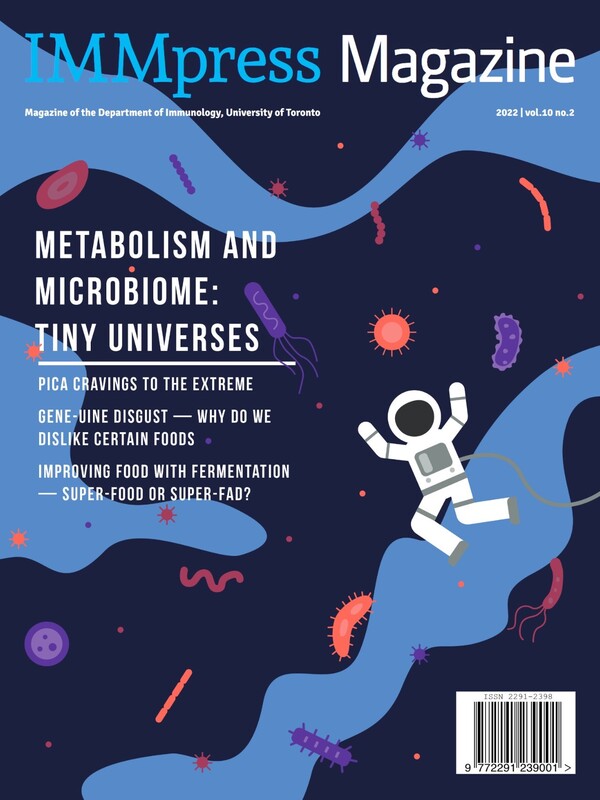 IMMPress Magazine
Though invisible to the naked eye, the microbiome makes up around 0.3% of our total body mass and is equivalent to the number of cells in our human body. The complex relationship between the human body and the microbiome can be observed in processes as drastic as the manifestation of diseases and as simple as the absorption of nutrients. These small but mighty microorganisms hold sizable power in influencing the way our body functions. With increasing knowledge of the field, we are starting to explore how to manipulate it to improve our health and the outcome of disease.