RECENT PUBLICATIONS FROM OUR DEPARTMENT
Zhang CK, Sun QF, et al. 2023. JSI-124 inhibits cell proliferation and tumor growth by inducing autophagy and apoptosis in murine malignant mesothelioma. Molecular Carcinogenesis. 
Arbabi K, Jiang YY, et al. 2023. Investigating microglia-neuron crosstalk by characterizing microglial contamination in human and mouse patch-seq datasets. Iscience. 26
Justich MB, Rojas OL, et al. 2023. The Role of Helicobacter pylori and Small Intestinal Bacterial Overgrowth in Parkinson's Disease. Seminars In Neurology. 
Chiaranunt P, Burrows K, et al. 2023. Microbial energy metabolism fuels an intestinal macrophage niche in solitary isolated lymphoid tissues through purinergic signaling. Science Immunology. 8
Bugbee E, Wang AA, et al. 2023. Under the influence: environmental factors as modulators of neuroinflammation through the IL-10/IL-10R axis. Frontiers In Immunology. 14
Tavasolian F, Lively S, et al. 2023. Proteomic and genomic profiling of plasma exosomes from patients with ankylosing spondylitis. Annals Of The Rheumatic Diseases. 
Rusu B, Kukreja B, et al. 2023. Single-Nucleus Profiling Identifies Accelerated Oligodendrocyte Precursor Cell Senescence in a Mouse Model of Down Syndrome. Eneuro. 10
Stapleton D, Darmonkow A, et al. 2023. Peripheral cord insertion is associated with adverse pregnancy outcome only when accompanied by clinically significant placental pathology. Ultrasound In Obstetrics & Gynecology. 62:248-254
Qaiyum Z, Tang MC, et al. 2023. Differential Effects of Integrin Blockade on Gut and Sacroiliac Joint Inflammation. Journal Of Rheumatology. 50:1090-1092
Last Updated September 29, 2023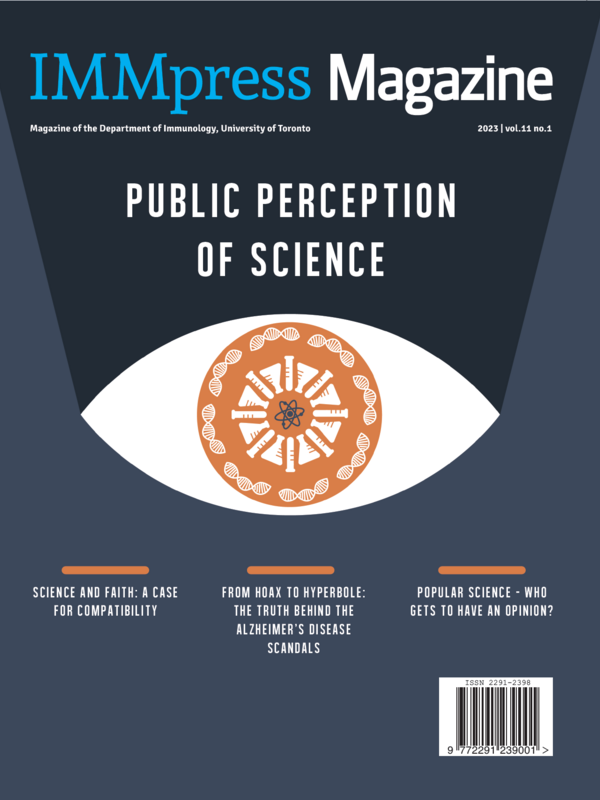 IMMPress Magazine
When one imagines a scientist, we typically turn to an image of someone in a white lab coat surrounded by an array of test tubes. Popularized by children's cartoons of scientists and overused stock footage of a scientist in the lab, public perception of a scientist is often an oversimplified representation and clouded by success stories. Behind these images, however, are a much more complex identity with ups and downs.