RECENT PUBLICATIONS FROM OUR DEPARTMENT
Feng YQ, Li CL, et al. FAM72A antagonizes UNG2 to promote mutagenic repair during antibody maturation. Nature. 
Stanojcic M, Vinaik R, et al. NLRP3 knockout enhances immune infiltration and inflammatory responses and improves survival in a burn sepsis model. Immunology. 
Snell LM, Xu WX, et al. Dynamic CD4(+) T cell heterogeneity defines subset-specific suppression and PD-L1-blockade-driven functional restoration in chronic infection. Nature Immunology. 
Andrews TS, Atif J, et al. Single-Cell, Single-Nucleus, and Spatial RNA Sequencing of the Human Liver Identifies Cholangiocyte and Mesenchymal Heterogeneity. Hepatology Communications. 
Spaner DE, Luo YX, et al. Janus kinases restrain chronic lymphocytic leukemia cells in patients on ibrutinib: Results of a phase II trial. Cancer Medicine. 
Gilmore JC, Zhang GJ, et al. 2021. Impact of in-utero antiretroviral drug exposure on expression of membrane-associated transporters in mouse placenta and fetal brain. Aids. 35:2249-2258
Aoki M, Wu LC, et al. 2021. IRF3 Knockout Results in Partial or Complete Rejection of Murine Mesothelioma. Journal Of Clinical Medicine. 10
Wojcik S, Imman RD, et al. 2021. IgG4-related Disease in a Patient With Ankylosing Spondylitis: Clues to Common Immunopathogenesis. Journal Of Rheumatology. 48:1757-1758
Haq S, Wang HQ, et al. 2021. Disruption of autophagy by increased 5-HT alters gut microbiota and enhances susceptibility to experimental colitis and Crohn's disease. Science Advances. 7
Knuth CM, Auger C, et al. 2021. Thermal Stress Induces Long-Term Remodeling of Adipose Tissue and Is Associated with Systemic Dysfunction. Shock. 56:744-754
Knuth CM, Auger C, et al. 2021. Reply to The Letter to The Editor: Adipocyte Browning in Response to Trauma: Some Important Methodological Considerations. Shock. 56:871-873
Fredrickson G, Barrow F, et al. 2021. Exercise of high intensity ameliorates hepatic inflammation and the progression of NASH. Molecular Metabolism. 53
Rahman ANU, Liu J, et al. 2021. Elevated glycolysis imparts functional ability to CD8(+) T cells in HIV infection. Life Science Alliance. 4
Last Updated: December 6, 2021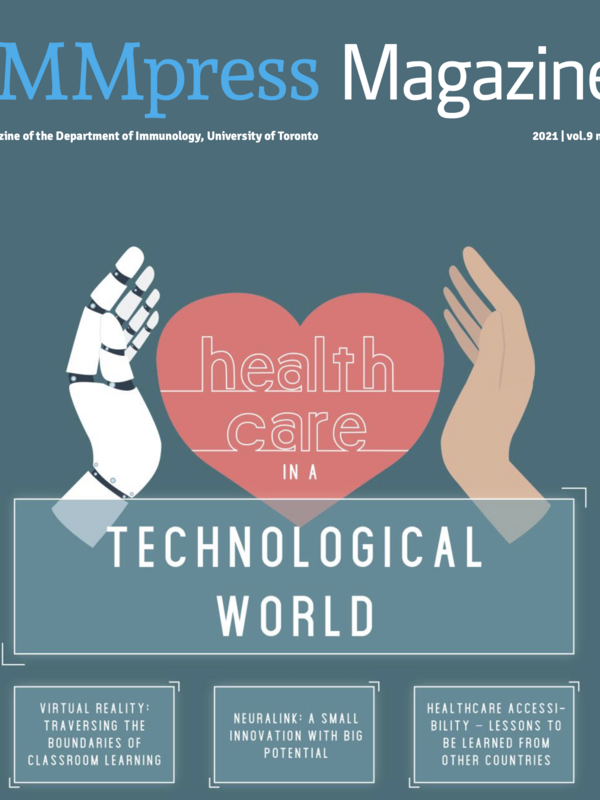 IMMPress Magazine
As we adapt to the new normal brought upon by the COVID-19 pandemic, we find technology increasingly embedded in our everyday lives. From the way we communicate to the way we provide care, it is hard to imagine what the world looked like before the pandemic. The dichotomous nature of technology was clearly highlighted by this pandemic. Indeed, while it allowed us to interact during the lockdown, it also became the root of misinformation that sewed confusion into the minds of many.