RECENT PUBLICATIONS FROM OUR DEPARTMENT
Aker A, Serghides L, et al. The impact of a stress management intervention including cultural components on stress biomarker levels and mental health indicators among indigenous women. Journal Of Behavioral Medicine. 
Tilstra G, Couture-Senecal J, et al. Iterative Design of Ionizable Lipids for Intramuscular mRNA Delivery. Journal Of The American Chemical Society. 
Shvartsman E, Perciani CT, et al. 2023. Gardnerella subgroup dominant microbiomes are associated with divergent cervicovaginal immune responses in a longitudinal cohort of Kenyan women. Frontiers In Immunology. 13
Massimo M, Barelli C, et al. Haemorrhage of human foetal cortex associated with SARS-CoV-2 infection. Brain. 
Liu RC, Armstrong E, et al. 2023. Soluble E-cadherin: A marker of genital epithelial disruption. American Journal Of Reproductive Immunology. 89
Steele EJ, Gorczynski RM, et al. Natural Antibodies and Severe Acute Respiratory Syndrome Coronavirus 2-Specific Antibodies in Healthy Asymptomatic Individuals. Clinical Infectious Diseases. 
Shiau S, Jacobson DL, et al. Unique Profile of Inflammation and Immune Activation in Pregnant People With HIV in the United States. Journal Of Infectious Diseases. 
Liu YL, Chen JJ, et al. A Universal Strategy to Promote Secretion of G plus /G- Bacterial Extracellular Vesicles and Its Application in Host Innate Immune Responses. Acs Synthetic Biology. 
Golzari-Sorkheh M, Weaver DF, et al. 2023. COVID-19 as a Risk Factor for Alzheimer's Disease. Journal Of Alzheimers Disease. 91:1-23
Fang KKL, Lee JB, et al. 2023. Adoptive Cell Therapy for T-Cell Malignancies. Cancers. 15
Al Olabi R, Hendy AE, et al. 2023. The inhibitory NKR-P1B receptor regulates NK cell-mediated mammary tumor immunosurveillance in mice. Oncoimmunology. 12
Last Updated February 27, 2023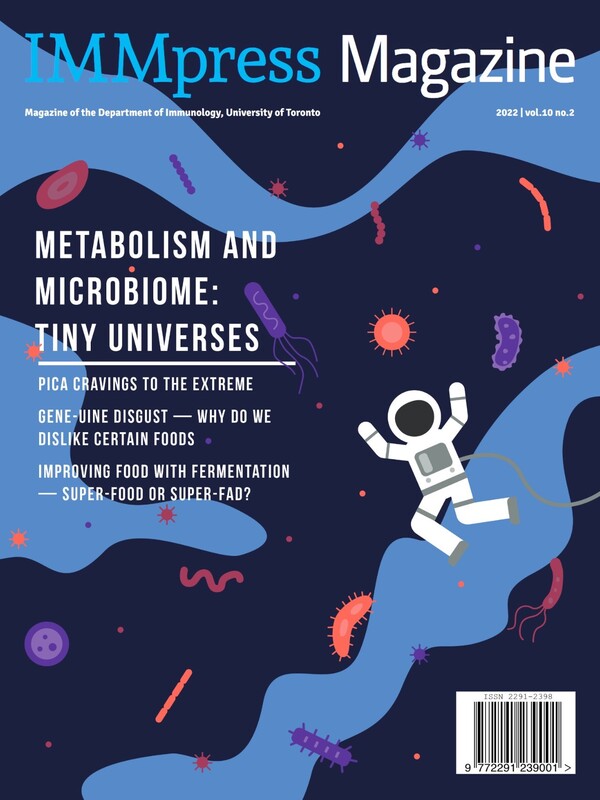 IMMPress Magazine
Though invisible to the naked eye, the microbiome makes up around 0.3% of our total body mass and is equivalent to the number of cells in our human body. The complex relationship between the human body and the microbiome can be observed in processes as drastic as the manifestation of diseases and as simple as the absorption of nutrients. These small but mighty microorganisms hold sizable power in influencing the way our body functions. With increasing knowledge of the field, we are starting to explore how to manipulate it to improve our health and the outcome of disease.