RECENT PUBLICATIONS FROM OUR DEPARTMENT
Tang BL, Lee JB, et al. 2022. Allogeneic double-negative T cell therapy for relapsed acute myeloid leukemia patients post allogeneic hematopoietic stem cell transplantation: A first-in-human phase I study. American Journal Of Hematology. 
Upton JEM, Hoang JA, et al. 2022. Platelet-activating factor acetylhydrolase is a biomarker of severe anaphylaxis in children. Allergy. 
Grazziotin LR, Currie G, et al. 2022. Real-world data reveals the complexity of disease modifying anti-rheumatic drug treatment patterns in juvenile idiopathic arthritis: an observational study. Pediatric Rheumatology. 20.
Wong MK, Liu JT, et al. 2022. Convergent CDR3 homology amongst Spike-specific antibody responses in convalescent COVID-19 subjects receiving the BNT162b2 vaccine. Clinical Immunology. 237.
Matsumoto Y, Dimitriou ID, et al. 2022. Tankyrase represses autoinflammation through the attenuation of TLR2 signaling. Journal Of Clinical Investigation. 132.
Saleiro D, Wen JQ, et al. 2022. Discovery of a signaling feedback circuit that defines interferon responses in myeloproliferative neoplasms. Nature Communications. 13.
Last Updated April 29, 2022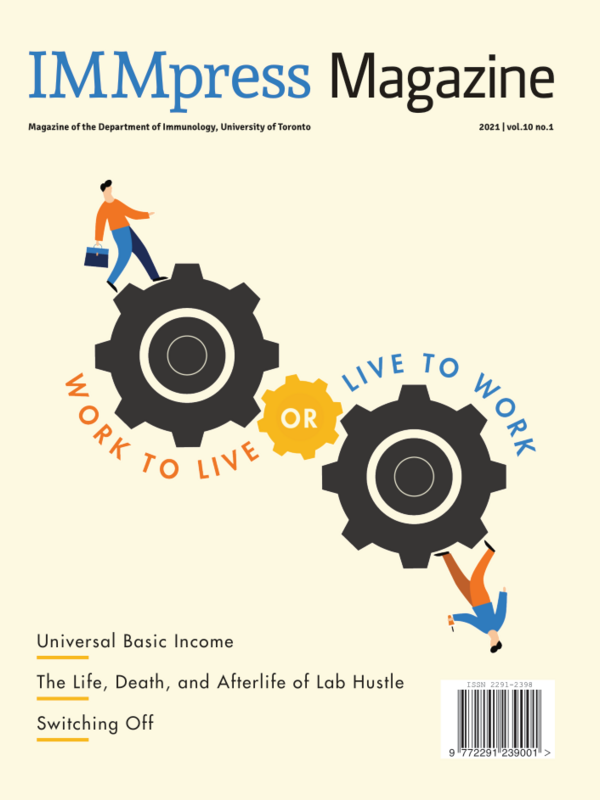 IMMPress Magazine
Work to live or live to work can be presented as a personal philosophical question – what is it that we prioritize more? Our livelihood? Or the meaningful work that we do? Are they truly two separate matters? As we exist in a society with people and systems, things are not quite as simple. The question we ask ourselves becomes much more complex, where it is no longer a question of our personal work ethics but what is permissible in today's society. How much of it is truly in our control? How much of our decision is dictated by our occupations, companies, institutions, and employers?