RECENT PUBLICATIONS FROM OUR DEPARTMENT
Tsang DKL, Wang RJ, et al. 2022. A single cell survey of the microbial impacts on the mouse small intestinal epithelium. Gut Microbes. 14
Lin QC, Kuypers M, et al. 2022. Invariant natural killer T cells minimally influence gut microbiota composition in mice. Gut Microbes. 14
Grazziotin LR, Currie G, et al. 2022. Factors associated with care-and health-related quality of life of caregivers of children with juvenile idiopathic arthritis. Pediatric Rheumatology. 20
Anderson MK, da Rocha JDB. Direct regulation of TCR rearrangement and expression by E proteins during early T cell development. Wires Mechanisms Of Disease. 
Banday AR, Stanifer ML, et al. 2022. Genetic regulation of OAS1 nonsense-mediated decay underlies association with COVID-19 hospitalization in patients of European and African ancestries. Nature Genetics. 54:1103
Boukhaled GM, Gadalla R, et al. 2022. Pre-encoded responsiveness to type I interferon in the peripheral immune system defines outcome of PD1 blockade therapy. Nature Immunology. 23:1273.
Kubli SP, Ramachandran P, et al. 2022. Reply to: Questioning whether the IgM Fc receptor (Fc mu R) is expressed by innate immune cells. Nature Communications. 13
Sheikh-Mohamed S, Sanders EC, et al. 2022. Guardians of the oral and nasopharyngeal galaxy: IgA and protection against SARS-CoV-2 infection. Immunological Reviews. 309:75-85
Mohtashami M, Li YR, et al. 2022. Thymus Reconstitution in Young and Aged Mice Is Facilitated by In Vitro-Generated Progenitor T Cells. Frontiers In Immunology. 13
Tsui FWL, Lin AF, et al. 2022. The role of LCN2 and LCN2-MMP9 in spondylitis radiographic development: gender and HLA-B27 status differences. Arthritis Research & Therapy. 24
Baranek T, Herbozo CD, et al. 2022. Deconstructing iNKT cell development at single-cell resolution. Trends In Immunology. 43:503-512
Thompson PK, Chen ELY, et al. 2022. Realization of the T Lineage Program Involves GATA-3 Induction of Bc111b and Repression of Cdkn2b Expression. Journal Of Immunology. 209:77-92
Shemtov SJ, Emani R, et al. The intestinal immune system and gut barrier function in obesity and ageing. FEBS Journal. 
Chen XD, Zhou KW, et al. 2022. Establishment and clinical application of time-resolved immunofluorescence assay of lipoprotein-associated phospholipase A2. Analytical Biochemistry. 648
Perez RE, Saleiro D, et al. 2022. Regulation of IFNalpha-induced expression of the short ACE2 isoform by ULK1. Molecular Immunology. 147:1-9
Gupta R, Vanlieshout E, et al. 2022. Altered Balance of Pro-Inflammatory Immune Cells to T Regulatory Cells Differentiates Symptomatic From Asymptomatic Individuals With Anti-Nuclear Antibodies. Frontiers In Immunology. 13
Zuo M, Fettig NM, et al. 2022. Age-dependent gray matter demyelination is associated with leptomeningeal neutrophil accumulation. JCI Insight. 7
Nguyen LT, Lo CS, et al. 2022. Expansion of Lymphocytes from Prostatic Adenocarcinoma and Adjacent Nonmalignant Tissue. Prostate Cancer. 2022
Wong S, Duan L, et al. 2022. Food protein-induced enterocolitis syndrome in a tertiary pediatric center: safety of guideline-conforming food challenges. Allergy Asthma And Clinical Immunology. 18
Kato K, Nakatsugawa M, et al. 2022. Characterization of Proteasome-Generated Spliced Peptides Detected by Mass Spectrometry. Journal Of Immunology. 208:2856-2865
Dimitriou ID, Meiri D, et al. 2022. Translational Control by 4E-BP1/2 Suppressor Proteins Regulates Mitochondrial Biosynthesis and Function during CD8(+) T Cell Proliferation. Journal Of Immunology. 208:2702-2712
Icho S, Rujas E, et al. 2022. Dual Inhibition of Vacuolar-ATPase and TMPRSS2 Is Required for Complete Blockade of SARS-CoV-2 Entry into Cells. Antimicrobial Agents And Chemotherapy. 66
Lin J, Law R, et al. 2022. Longitudinal Assessment of SARS-CoV-2-Specific T Cell Cytokine-Producing Responses for 1 Year Reveals Persistence of Multicytokine Proliferative Responses, with Greater Immunity Associated with Disease Severity. Journal Of Virology. 96
Dayam RM, Law JC, et al. 2022. Accelerated waning of immunity to SARS-CoV-2 mRNA vaccines in patients with immune-mediated inflammatory diseases. JCI Insight. 7
Armstrong E, Hemmerling A, et al. 2022. Sustained effect of LACTIN-V (Lactobacillus crispatus CTV-05) on genital immunology following standard bacterial vaginosis treatment: results from a randomised, placebo-controlled trial. Lancet Microbe. 3:E435-E442
Kaul R, Liu CM, et al. 2022. The Penis, the Vagina and HIV Risk: Key Differences (Aside from the Obvious). Viruses-basel. 14
Whittall-Garcia L, Goliad K, et al. 2022. Identification and Validation of a Urinary Biomarker Panel to Accurately Diagnose and Predict Response to Therapy in Lupus Nephritis. Frontiers In Immunology. 13
Zhang LL, Zhou KW, et al. 2022. The Role of Chemokine IL-7 in Tumor and Its Potential Antitumor Immunity. Journal Of Interferon And Cytokine Research. 42:243-250
Rehou S, Rotman S, et al. Outbreak of Carbapenemase-Producing Enterobacteriaceae in a Regional Burn Center. Journal Of Burn Care & Research. 
Emoto T, Lu J, et al. 2022. Colony stimulating factor-1 producing endothelial cells and mesenchymal stromal cells maintain monocytes within a perivascular bone marrow niche. Immunity. 55:862.
Wong A, Hamidzada H, et al. 2022. A cardioimmunologist's toolkit: genetic tools to dissect immune cells in cardiac disease. Nature Reviews Cardiology. 19:395-413
Itani R, Karout S, et al. 2022. Diverging levels of COVID-19 governmental response satisfaction across middle eastern Arab countries: a multinational study. BMC Public Health. 22
Emoto T, Yamamoto H, et al. 2022. Single-Cell RNA Sequencing Reveals a Distinct Immune Landscape of Myeloid Cells in Coronary Culprit Plaques Causing Acute Coronary Syndrome. Circulation. 145:1434-1436
Balogun K, Serghides L. 2022. Comparison of the Effects of Three Dual-Nucleos(t)ide Reverse Transcriptase Inhibitor Backbones on Placenta Mitochondria Toxicity and Oxidative Stress Using a Mouse Pregnancy Model. Pharmaceutics. 14
Chung DGC, Jacquelot N, et al. 2022. Innate Lymphoid Cells: Role in Immune Regulation and Cancer. Cancers. 14
Duerr CU, Klose CSN, et al. 2022. Editorial: Circuits of Resident Immunity Regulating Tissue Adaptation and Organ Homeostasis. Frontiers In Immunology. 13
Croitoru DO, Brooks SG, et al. 2022. Dermatitis after exposure to Lymantria dispar dispar. Canadian Medical Association Journal. 194:E500-E500
Vasic D, Lee JB, et al. 2022. Allogeneic double-negative CAR-T cells inhibit tumor growth without off-tumor toxicities. Science Immunology. 7
Amini-Nik S, Abdullahi A, et al. 2022. Aging Impairs the Cellular Interplay between Myeloid Cells and Mesenchymal Cells during Skin Healing in Mice. Aging And Disease. 13:540-551
Han S, Liu ZQ, et al. 2022. Overproduction of IFN gamma by Cbl-b-Deficient CD8(+) T Cells Provides Resistance against Regulatory T Cells and Induces Potent Antitumor Immunity. Cancer Immunology Research. 10:437-452
Last Updated August 30, 2022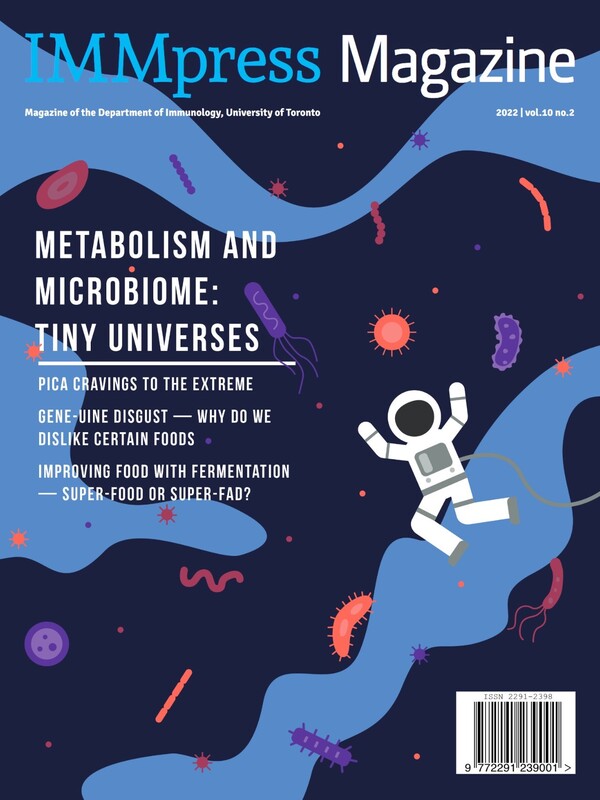 IMMPress Magazine
Though invisible to the naked eye, the microbiome makes up around 0.3% of our total body mass and is equivalent to the number of cells in our human body. The complex relationship between the human body and the microbiome can be observed in processes as drastic as the manifestation of diseases and as simple as the absorption of nutrients. These small but mighty microorganisms hold sizable power in influencing the way our body functions. With increasing knowledge of the field, we are starting to explore how to manipulate it to improve our health and the outcome of disease.